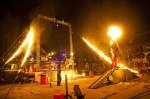 Our main show The Stockholm Syndrome can of course be booked for any private or corporate event as well. The lenght of the show can be adapted to suit the event.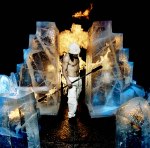 The Fire Ice show is an esthetically very beautiful show where the elements of fire and ice are used. In a beautiful yet spectacular way the elements are mixed and brought to life by Punks. Less crazy and more poetic but without loosing the energy of our normal shows. We set fire to the ice and with the help of live icesculpturers we create a most unique and exclusive show. Suitable for any grand opening or cultural event.
Lenght: The show can be adjusted in lenght but not longer than 25 min since it is an outdoor show in the winter time.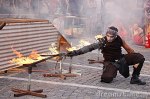 The Punks Streetshow is a streetshow based on 3-4 characters from Burnt Out Punks. It can be performed on any outdoor venue as well as on the street or in the backyard of your office. It is a highly audience interactive show with alot of fire, comedy and a blazing finale! Perfect for your partners´ birthday, your wedding or to get your party guests ready for the late night disco!
Lenght: 10 - 40 min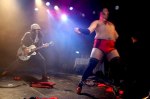 The Punks Variety is the most insane but loveable varitey you can possible book. Filled with all our crazy numbers from our big show but performed as solos in a smaller venue. Humour, insanity, spectacularity, circus, male burlesque, chainsaws, magic, great music and a touch och fire and fakir will turn your event/party into another world!
Lenght: 30 min - 1.5 hrs