HISTORY OF THE BURNT OUT PUNKS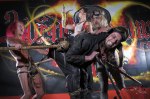 Burnt Out Punks was born on the 25th of August 2005 at the Malmö Culture Festival. One week prior we had been asked by Martin, a friend and collegue, from Sirqus Alfon (www.sirqusalfon.com) and Magnus Jonsson, if we could cover for them and take over a gig that was sold and already booked. They had named this gig/project the Burnt Out Punks. "We" were a group of circus artists that had been working together for many years. Wille Christiani, Nalle Laanela, Björn Olsson Kalle Granberg and Ronnie Nilsson. We had a great experience of working with fire but had grown tired of just swinging fire the same old way. We wanted to develop and add character and go more crazy and was just at the point of starting up a project. So this oppurtunity suited us perfectly!
Magnus stayed with us in the project and we rehearsed for 2 days outside our training space. Bringing out old characters and mixing them with new. Raiding our props and costume storage. Building new stuff and remaking old. Trying to set fire to anything we could. Brainstorming and saying yes to every suggestion. Soon we had a 40 min flipped out, crazy and insane fire show.
We borrowed a friends´ van and drove down to Malmö from Stockholm. We put up the show on a large rock n´ roll/black box stage. We almost burned down the entire place but we had the time of our lives and delivered 2 raw and kick ass fireshows! We had sooo much fun that we decided to try to make a show under the name Burnt Out Punks for the next summer.
This trailer is based on our first gig at the Malmö Culture Festival and the Red Nose Day at Gröna Lund the year after.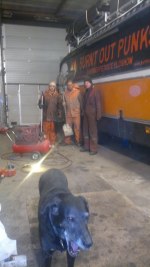 Inspired and on the roll after our first great gigs we decided to really give it a shot. We asked if we could take the name the Burnt Out Punks and claim it as our own. We started dreaming away and looking in our storage what we had that could be used. With very little money we had to be inventive. Wille had an old trailer stage at his country house that he had built for another project many years ago. With a little work it would be back in shape in no time. We started talking about turning Nalles living bus into a tourbus with a stage on it. But after closer examination the bus was not fit for any travelling at all and his girlfriend Angela would probably oppose to the idea of 6 sweaty Punks in her home for 4 months a year. So another bus was found on the internet. We brought along a bus expert, the Leather Baron from Kontrabus (www.kontrabuss.org), to do a proper examination of its condition. We ended up leaving the forests of Karlstad with SWEA Sexmachine. A Scania Vabis from 1963 and she has been with us since.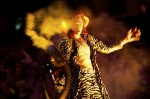 SWEA was great in every way. She had a stage on the roof and her interior was separated between living quarters and storage - perfect for our needs on tour! However we soon realized that she would need constant care mechanically and an extra driver besides Nalle (The only one of the crew with a truck license). During our first stay at Kontrabuss and their great bus service garage we worked intensely with Svante Christell aka the Leather Baron. He showed great interest in both the bus and us. So finally we realized that we needed him on board the project. He happily joined as tour bus driver/mechanic/technician with the promise that he would get to perform on stage. The family grew!