Welcome to burnt out punks
Burnt Out Punks is a hardcore fire-driven, petrol-fuelled, anarchistic punk circus with a unique mixture of theatre, circus and street art. We've toured our post-apocalyptic universe since 2005 and performed for more than half a million people in 16 countries.
Smoke SCreens - Swedish premiere
Burnt Out Punks Halloween show at gröna lund!
Halloween show at gröna lund
What better way to celebrate Halloween then watching Burnt Out Punks' show Asphalt Apocalypse at Gröna Lund!

From the 27th of October until the 4th of November, every day at 20:00 on the big stage.

More info HERE.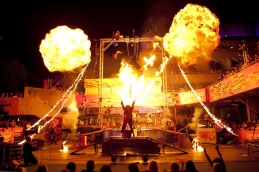 Smoke Screens - Premiere October 2017 in Prague
Smoke Screens is a cynical contemporary circus comedy dealing with the dark side of social media through theatrical effects and illusions.

With support from Kulturrådet, Stockholm läns landsting, Stockholms Stad, Konstnärsnämnden, Subtopia & Jatka78/La Putyka.

Premiere in Prague in October 2017
Premiere in Sweden in March 2018

More information here.
Big final for 'The Stockholm Syndrome' at Parkteatern!!
August 25-26 in Rålambshovsparken
The 25th and 26st of August Burnt Out Punks will present 'The Stockholm Syndrome' as the big final of Parkteaterns summer season 2017. This will also be the farewell shows for this production, whereafter we will continue with our new show Smoke Screens which will premiere in Prague in October 2017 and in Sweden in March 2018!

So don't miss it!

Date/time: 25th and 26st of August, 21:00
Place: Rålambshovsparken
More info: Parkteatern/Burnt Out Punks
BURNT OUT PUNKS as your BABYSITTER!?!
Premiere for webb tv series
'Life as a punk' !

Now you can see the first episode of 'Life As A Punk' on our Youtube channel:

Youtube.com/BurntOutPunks

Be sure to subscribe to not miss the coming episode, new one every other Sunday!

The release was celebrated with a ass kicking party at Punkshangaren last Saturday. Biggest sponsor of the kickstarter project, Swedish hip hop legends JustD, played some of their best stuff, weird things got tattooed by weird people on weird places and the police stormed the party, all as it should be...
Punkare gripna i Indonesien – blir omlärda..... WTF!!!
64 punkare greps i tisdags av indonesisk polis, rapporterar The Jakarta Globe. De anklagas för att vara just punkare och ska nu "läras om", enligt polisen.
Läs mer i DN här
Läs hela inlägget »
Part of this years summer tour is being shown as an advent calender. A new episode is being released everyday in december until the 24th.
Nils Johannes Wärmegård was a performing circus artist who died in a drowning accident in February 2009. His friends decided to honor his memory by performing a circus and variety show in the north of Sweden where Nils was born and where he grew up.
"The Nils Show On Tour" is the title of a series of videos that was recorded between the 26th of July and 4th of August 2011. The videos are a documentation of what we did during these days in Sweden.
You can follow it here.
Läs hela inlägget »
BURNT OUT PUNKS ON TOUR WITH JOE LABERO AND THE INFERNO SHOW

Burnt Out Punks has been featuring and rocking it out with Joe Labero in a new show called "INFERNO" at Hamburger Börs, Stockholm, all fall! Now we are on a Swedish tour from mid Feb to mid May. More than 65 shows all over Sweden. Click below for tourdates and booking tickets. Hurry it is sold out almost everywhere!!!
http://labero.se/sverigeturne/speldatum/
BURNT OUT PUNKS TO GREENLAND
On August 30 and 31st parts of the Burnt Out Punks and groups from 6 other countries join their forces in a collboration and set up the largest outdoor show ever in the capital, Nuuk, of Greenland.

Three years ago Burnt Out Punks/Circus Arts initiated the network Circus Effects Network – CEN (WWW.CIRCUSEFFECTSNETWORK.ORG). A network focused on rigging and pyrotechnics as artforms in stage performances. Together with groups from 6 other european countries (Norway, Finland, Iceland, Spain, Greenland and Denmark) we now create a magnificent site-specific performance in the Colonial Harbour in Nuuk on Greenland. The National Theatre (Nunatta Isiginnaartitsisarfia) are our hosts. It is a show where circus, fire and ice meets inuit mask/drum dance, history and mythology. With more than 20 proffesional and 50 local amateurs and a brass band on stage!

Click below to Download Press Info and the Poster
NEW WEB BASED TV SERIES OF THE PUNKS
BURNT OUT PUNKS AT HAMBURGER BÖRS WITH MAGICIAN JOE LABERO
Burnt Out Punks will be featuring and rocking it out with Joe Labero in a new show called "INFERNO" Hamburger Börs In central Stockholm! Premiere on the 26th of September until 21 of Dec and then a Swedish Tour.


Welcome to a glowing hot Inferno at Hamburger Börs.

- "For the past couple of years Labero has spellbound and seduced large parts of Asia with his manipulation skills. He is finally back where it all started - with an explosive show that sparkels all over. This time he will try to tame natures mayby strongest element. Fire. At his side he will have some of Europes craziest fire artists from Burnt Out Punks. Together they create a magic and petrol drenched punk circus, mixing favourite acts with illusions that has never been seen before. It is hot, breathtaking and completely, completely magic. Meet the magician Joe Labero and the Burnt Out Punks in the world premiere of Inferno!" -